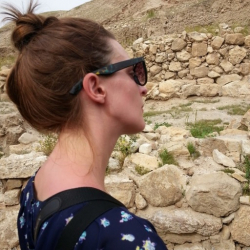 Latest posts by Shaleena Quinlan
(see all)
It offers the best of both worlds; that is, the fresh and green outdoor world and the cushy and comfy indoor world. What is this wonder of the world? It is a window sill garden. This garden is the ultimate space-saving, time-saving, and energy-saving way to grow your own plants. If you're interested in how you can turn a window sill in your home into a piece of nature's paradise, keep reading.
Whether you are looking to start a window sill garden to save space or to make your gardening experience easier, we are going to walk through what it takes to grow a successful indoor garden.  Let's get into the details of how to begin this project.
Streamline Your Search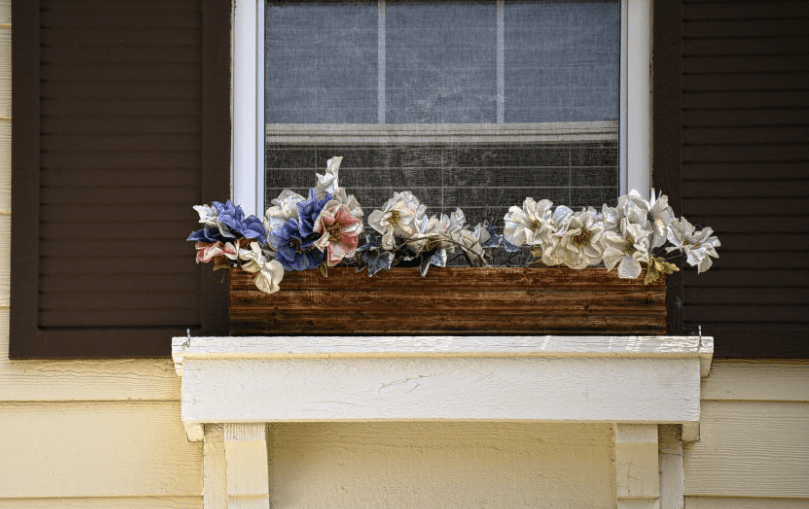 Before you set out to gather all your equipment to set up a window sill garden, you need to know what to get and why to get it.  Ultimately, we are going to use the following criteria in our search:
The Window Sill Site
You need to find a window inside your home that will suit growing plants in.
The Plants for the Garden
We are going to list out types of plants that are most commonly grown in a window sill garden and where they will grow best.
The Plant Container to Hold the Plants
We are going to list out some plant container suggestions based on the following:
Personal Style
Space Saving Qualities
Types of Plants
Price Range
The Shelf to Hold the Plant Container
We are going to list out some shelving options based on the following:
Personal Craftiness
Space
Style
Ease of Installation
Choose Your Window
There are no hard and fast rules that say you have to put your window sill garden in the kitchen and only in the kitchen.
Sure, this is a common place to keep an indoor garden, but it isn't required; in fact, you don't have to limit yourself to just one window. When you are considering which window to set your garden in, keep the following factors in mind:
Look for a window that gets the appropriate amount of sunlight for the type of plants you intend to grow
Look for a windowsill that has plenty of space to set plants on or can be transformed into a bespoke plant container
Look for a window that is easy to access since you will need to regularly inspect, clean, water, or prune the plants
Choose Your Plants
Determining what type of plant or plants you will grow in your windowsill garden may be dependent on the windowsill you choose. If your windowsill doesn't provide very much sunlight, you may be limited to plants that can handle darker conditions.
If your windowsill is not very large, you may be limited to plants that stay small. But, there's no need to fret over the lack of options since there are so many plants that will thrive in a window sill garden. It's time to talk about the types of plants that grow best in a window sill garden. We're not only going to discover the names of these plants, but we're also going to talk about what conditions they require to grow best.
With this type of information, you should be able to select the appropriate plant for your particular windowsill and gardening skills and style.
Full Sunlight Plants
If your windows get a lot of sunlight throughout the day, you may want to consider growing one of these plants.
Basil
This herb is a standard kitchen ingredient that you can grow fresh in your sunniest windows. Other herbs that need a lot of sunlight are thyme, oregano, rosemary, and sage.
Carrots
Give this garden go-to a chance to grow indoors as well. They do need plenty of sunlight, but otherwise, they are perfect container plants.
Peppers
These spicy plants thrive in warm and sunlit environments. If you have a warm and sunny window, then you need a pepper plant inside it.
Succulent Varieties
Most succulent varieties thrive in warm, arid, and extremely sunny conditions. If you have windows that provide this, then set a few succulents in small pots in those windows. Succulent gardens are cute and undemanding.
Tomatoes
Yes, these can be grown indoors as long as they are set in a place that has access to eight hours of full sunlight each day. To keep things compact, choose a tomato variety that stays small. Cherry tomatoes would be a perfect option.
Note: A window that receives full sunlight throughout the day can still grow lowlight plants if they are provided with some shade.
Low Light Plants
If your windows don't get very much sunlight throughout the day, you may want to consider growing one of these plants.
Burro's Tail
This is a vining succulent that is so easy-going. Even though it is a succulent plant, it does not do well in a lot of direct sunlight. If it can get access to bright but filtered sunlight, it will be a beautiful accessory to your window sill garden.
Leafy Greens
These plants do not need more than two to three hours of sunlight each day, so if you're struggling to grow anything in your dark windows, try these instead. Plus, there is the added benefit of having easy access to fresh greens.
Microgreens
This is another healthy and tasty option to grow in lowlight conditions. These can go quite a while without sunlight but do prefer about four hours of sunlight each day.
Mint
This herb can grow in lowlight conditions, which is awesome because it is also a delicious herb that is handy to have around the kitchen for salads, tea, and desserts. Other herbs that grow well in low light conditions are cilantro, parsley, and tarragon.
Pothos Varieties
This family of plants does not need a lot of sunlight; in fact, if they are exposed to too much direct sunlight, their delicate leaves will burn.
Snake Plant
This particular plant is super hardy and can grow in very dark conditions. With over seventy varieties of snake plants available, there is no way you will get bored decorating with them.
Wheat Grass
This sprouts without sunlight and will only take two weeks to grow from seed to harvest-ready.
Note: A window that only gets small amounts of sunlight throughout the day can still be used to grow full sunlight plants if a grow light is used to compensate for the lack of sunlight.
Choose Your Shelf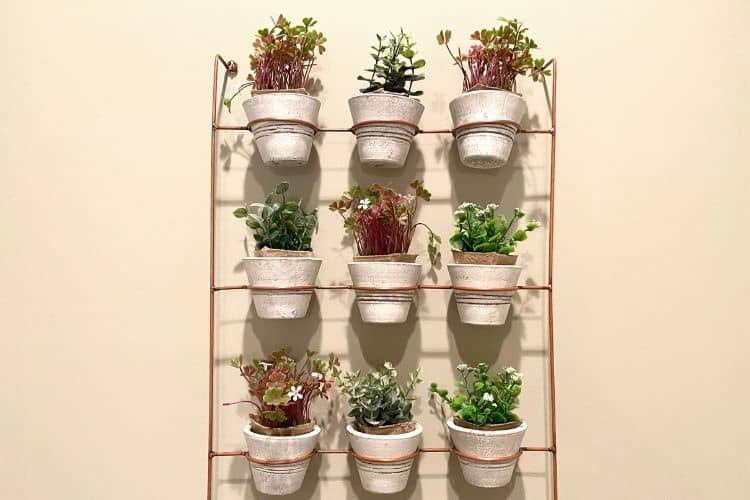 This part of the process will go hand in hand with choosing a plant container. You need a shelf that can hold the plants and their containers, but if you don't currently have a shelf that will do this, you need to get one. Let's examine a few ways to prepare your windowsill for a garden.
Bespoke Your Own Shelf
If you are handy with wood and power tools, there is nothing that can stop you from creating your own personally designed and crafted window sill shelf. Here are a few sites that give directions on how to do this.
Purchase a Shelf
Make it easy on yourself by purchasing a shelf designed for holding plants in a window. Here are several online shops that offer premade window sill shelves.
Best Hanging Plant Shelf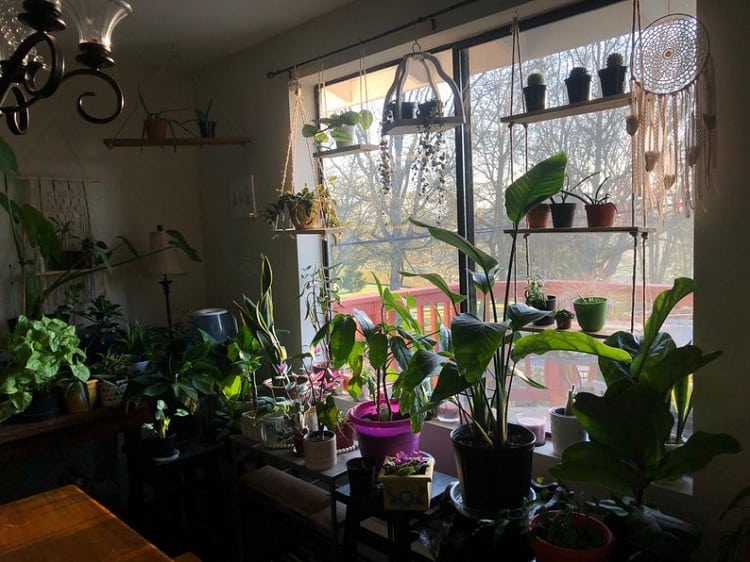 This shelf is easy on the eyes and easy to install.
Pros
It is a hanging shelf rather than a wall shelf
It holds multiple shelves
It can be attached to the ceiling with hooks or a rod
Cons
It needs to be installed from the ceiling
Most Versatile Window Sill Shelf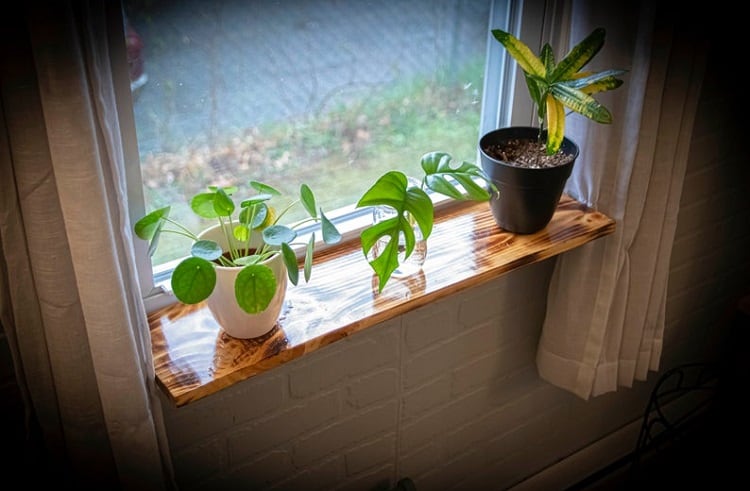 This is a beautiful shelf that is designed just for window sill gardens.
Pros
It can be ordered to fit your window
It is beautifully made
It is sturdy
It is easy to install
It will ship within 48 hours when ordered unfinished
It is produced by a small family business
Cons
You will have to measure your window and install the shelf
Easiest Installation Shelves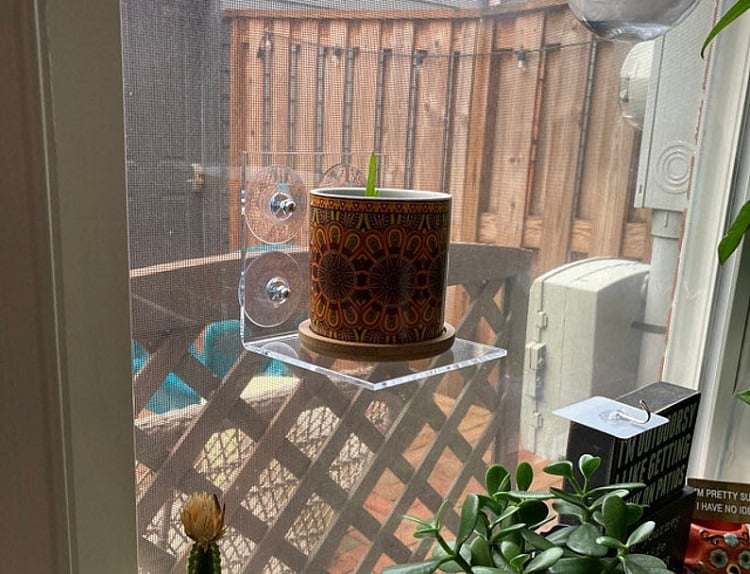 These are an excellent choice if you do not have the time or resources for putting together a fancy window sill.
Pros
You can use one or several of these on one window
They are sturdy
They are easy to put up
They come in a variety of sizes
They can attach to any window
Cons
They are not very attractive
Skip the Shelf
Rather than place your plants on a shelf that you don't have and don't care to create or purchase, skip the shelf altogether. What to do instead? Use hanging plants to create an ethereal hanging garden in your own living room.
Choose Your Planter
This is a critical feature for any type of gardening, whether indoor, outdoor or on a window sill. The difference here is that the container needs to fit on the windowsill so that the plants can be exposed to sunlight.
Fitting a container on the windowsill may require some DIY work to create the appropriate space or it may just be a matter of selecting the proper type of container. You will have to decide how much time, effort, and money you want to put into designing your window sill garden.
As you consider which window you want to use for your garden, which types of plants you want to grow, and if you will need to adjust the windowsill to fit your garden, take some time to consider what type of plant container will best suit your plants and your window space.
Keep the following features in mind as you select a plant container:
The plant container should not be bigger than the windowsill (you do not want a container that is easy to knock off when walking by it)
The plant container should not be too heavy for the windowsill (you do not want the container to crush the shelf it is resting on and come crashing down on your floor)
The plant container should have drainage holes and be equipped with a saucer to catch the excess water from the drainage holes
The plant container should suit the type of plant that is growing in it (succulents and cacti do best in terracotta containers, while sprouts require a clear glass container)
The following containers are excellent choices to use in a window sill garden. They should give you an idea of what to look for when deciding what type of container you need for window sill gardens.
Best Planters for Style – COLOAPT Succulent Plant Pots

These pots are for those gardeners who love a little color and texture alongside their plants.
Pros
These are priced just right at 6 pots for $20
These are a quirky and cute style of pot
These are ideally sized for use on a window sill
Cons
These can only hold small plants
Best Planters for Price – 5-inch Flower Planter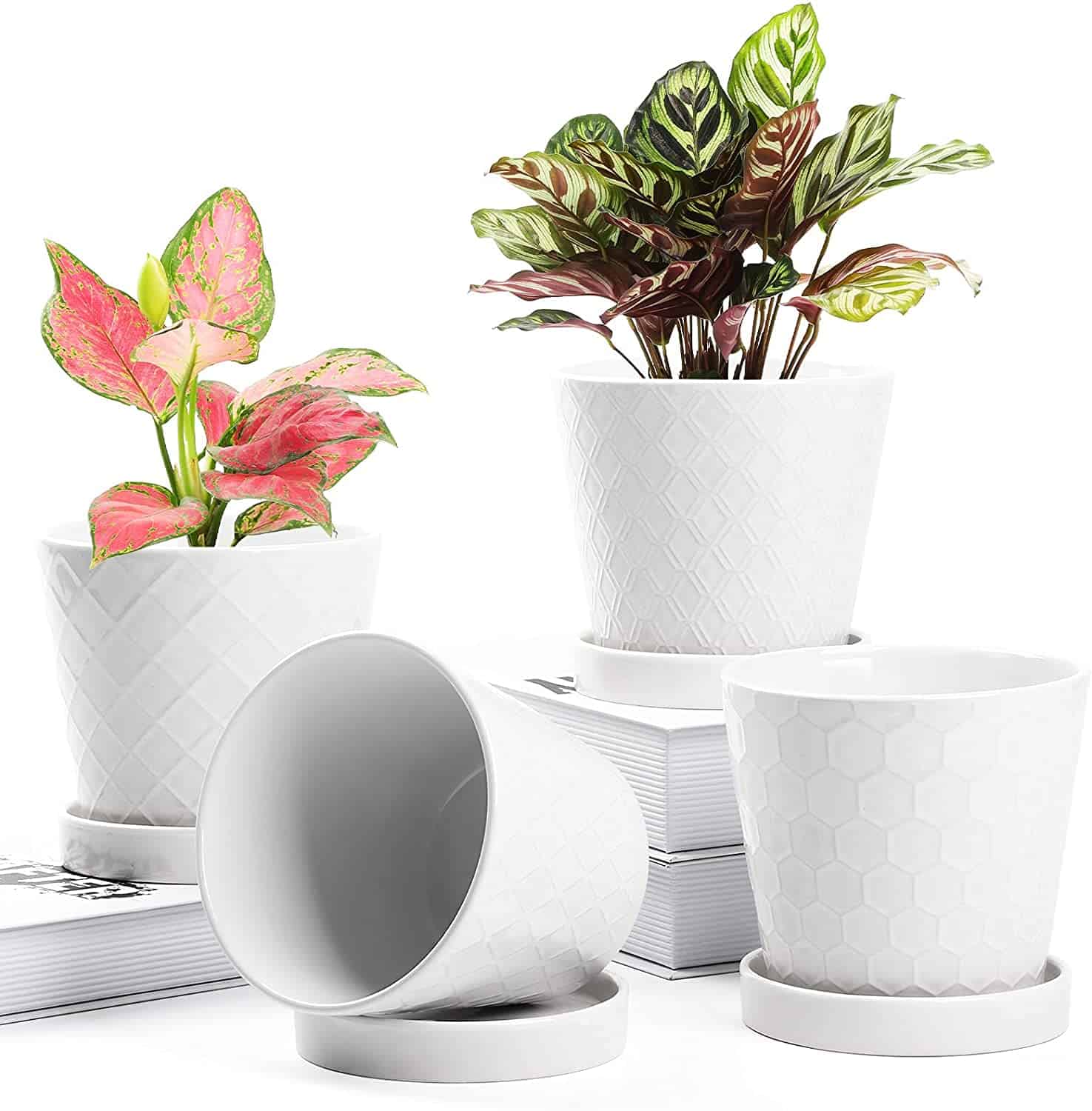 This is a set of 4 planters that are versatile in their looks and in what types of plants they hold.
Pros
This offers a clean and simple design
This planter can hold any type of plant in it
This planter comes in four different colors
Cons
Best Planter for Saving Space – Geo Series Metal Planter Box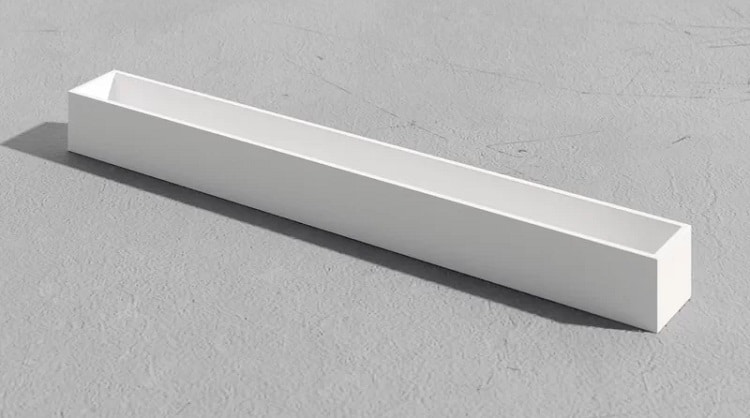 A planter such as this one melds environment and machine in one very pretty box.
Pros
This planter offers a very modern urban style
This planter can hold several plants in it
Cons
This planter may take up the entirety of a window sill and crowd out other plants
Best Planters for Succulents – Mini Clay Pots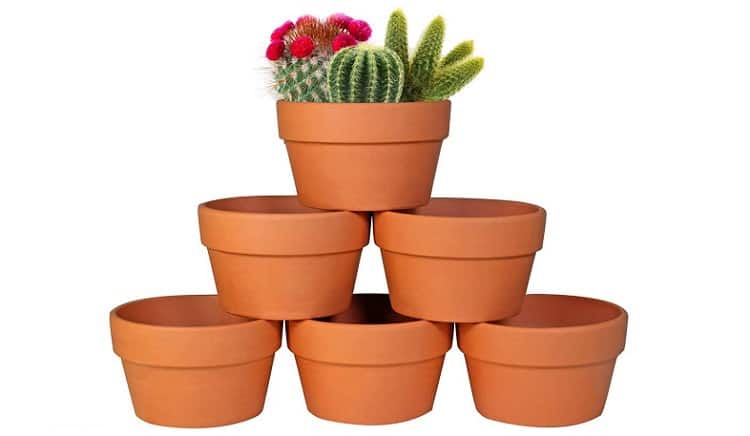 These clay pots are quintessential items for a window sill garden.
Pros
These are designed to hold plants with shallow root systems
These are designed to rest safely on shelves
Cons
These may not hold every type of plant
Best Planters for Herbs – Window Garden Self Watering Herb Kit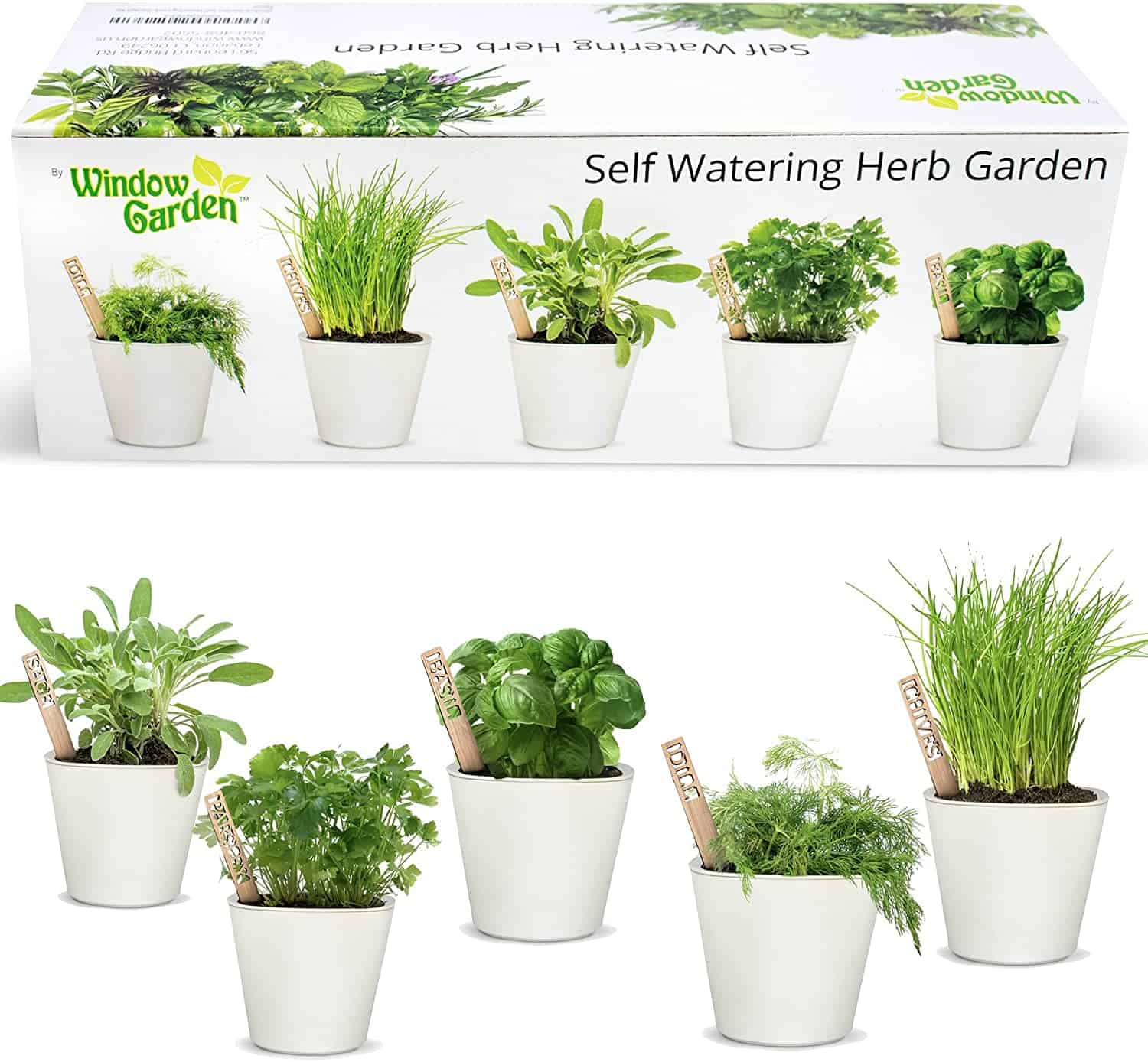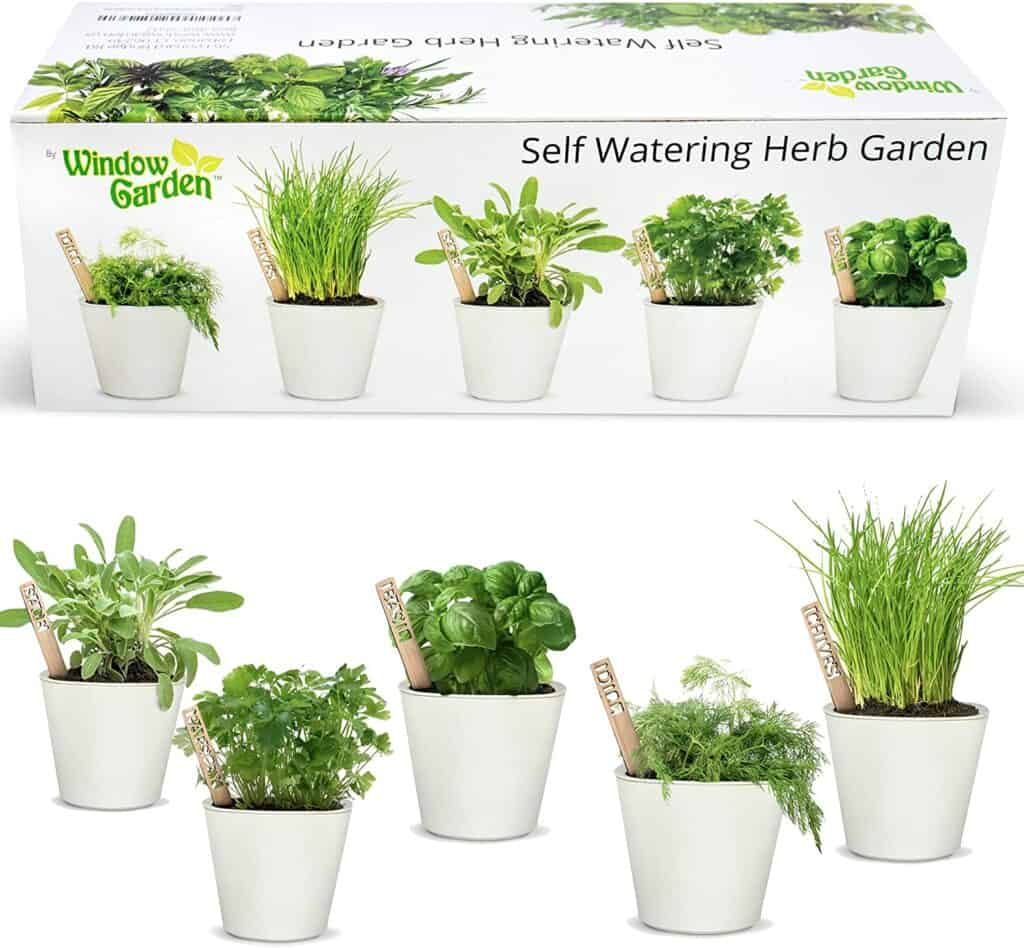 This is an all-in-one herb-growing pot.  It is going to help eliminate the hassle and mess of watering any plant grown in it.
Pros
These are designed to make watering herbs easy and mess-free
These have a clean and simple design
These are reasonably priced
Cons
These may not work as well with plants that are not herbs
Best Planter for Vegetables – Self-Watering Plastic Rail Planter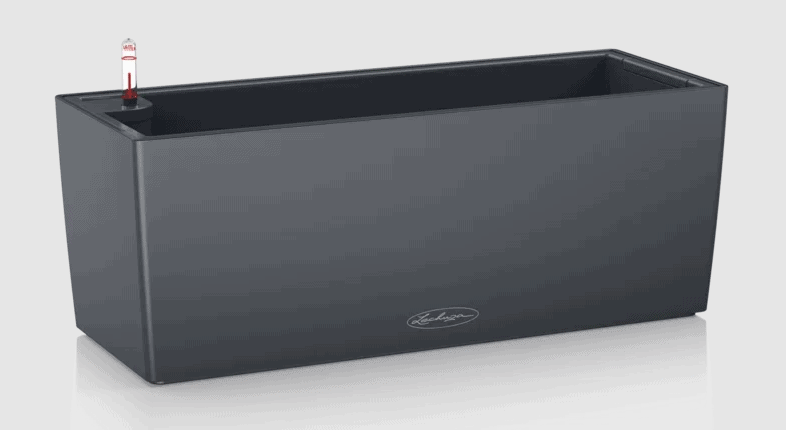 This planter can hold a variety of different plants, but it is deep enough to grow some very tasty vegetables in it.
Pros
It is designed to self-water
It is deep enough to hold larger plants
It is thin enough to rest securely on a window sill
Cons
It does not come with hanging brackets
Choose Your Style
Whatever you do, don't forget to be you. If you want a window sill garden that is full of brown terracotta pots bristling with succulents, then do that.
If you want every pot to be different in color and texture and size, then do that. If you want to hang plants and set plants on a shelf in the same window and mix succulents, tropical plants, and garden vegetables, then do that.
It is so important to remember that this is your home, this is your project, and this is your garden space. Style it the way that makes you happy.
In Conclusion
I love a window sill garden because they are relaxing.  Deciding what to plant, where to plant it, and how to plant it are not really obstacles, but just a part of the process.
For me, I adore a window full of small terracotta pots bristling with succulents in the warm afternoon sunshine.  I hope you have been informed and inspired to find the perfect planter and the perfect place for your garden.
Research Citations