We all love our plants, whether they are inside our homes or out in the yard. Yet, these plants can be made even more beautiful with the best fiberglass planters.
Fiberglass planters make a lot of sense. You can easily pot your plants and place them indoors. They also allow you to have a beautiful accent for your yard and give your small trees and shrubs more soil without having to plant them into the ground.
Not only that, if you have ever tried to move your planters and pots around, you know that terracotta pots will break your back, while the bottoms of plastic ones are always in danger of breaking. These are not problems with a fiberglass planter.
As you can guess, there are a lot of situations where a fiberglass planter is all you need. And here are the ones that we recommend for you regardless of what you need right now.
The Best Fiberglass Planters Available Now
Fiberglass planters can make a lovely addition to your home's décor. If you have plants inside the house, then forget about other materials when it comes to your pots. Fiberglass planters are especially useful when you require bigger containers for your plants.
This is because it might be very difficult to find something made with a different material. For instance, tall ceramic planters are prone to breaking and can be very heavy. These are not issues when you have a fiberglass planter.
Conversely, fiberglass planters also make sense outdoors because they can pretty much stand up against the elements. Their colors don't fade even when exposed to sunlight.
So depending on where you plan to put these planters, we have listed down the best for you. On top of that, we have selected the best products according to their style, function, and design.
Best for Privacy Hedges: Austin Avenue Accents Tall Rectangular Planter Box
If you're planning to use a fiberglass planter to give your property some privacy or just to liven up a walkway, you should check out Austin Avenue Accents Tall Rectangular Planter Box. This planter box measures 36 by 10 by 24 inches (91.4 by 25.4 by 61 centimeters), making it easier for you to liven up any outdoor space while giving you much-needed privacy.
It comes in three different colors: black, red, and gray. The durable material is made using the same process as manufacturing materials and painting done on cars, boats, and trucks.
These rectangular planters are beautiful by themselves. Pair it with the perfect plants, and you've got an easy way to make it stand out in your yard. More than that, it's the best way to upgrade just about any space.
Pros
Can be used in patios, commercial space, or as a divider.
Commercial manufacturing processes were used in creating this product.
Lightweight.
Cons
Can be very expensive.
Some buyers complain that it's so light that a strong gust of wind can topple it.
Best for Patios, Balconies, and Window Sills: Pottery Pots E1105-S1-03 Fiberstone Planter

The Pottery Pots E1105-S1-03 Fiberstone Planter mixes crushed stone and fiberglass, giving it a more natural stone look without the weight. With this planter, you can instantly create a planting bed for flowers, herbs, and other plants that you have.
This measures 7.9 by 31.5 by 7.9 inches (20 by 80 by 20 centimeters), making it ideal for windows sills, patios, and balconies. If you want, you can also put this as a centerpiece of your dinner table, with live plants to complete the look.
Pros
Easy to match with your existing decor because of its minimalist look.
Comes with a five-year warranty.
Cons
More expensive than other planters with the same dimensions.
Best for Accents: Green Boutique Round Modern Fiberglass Planter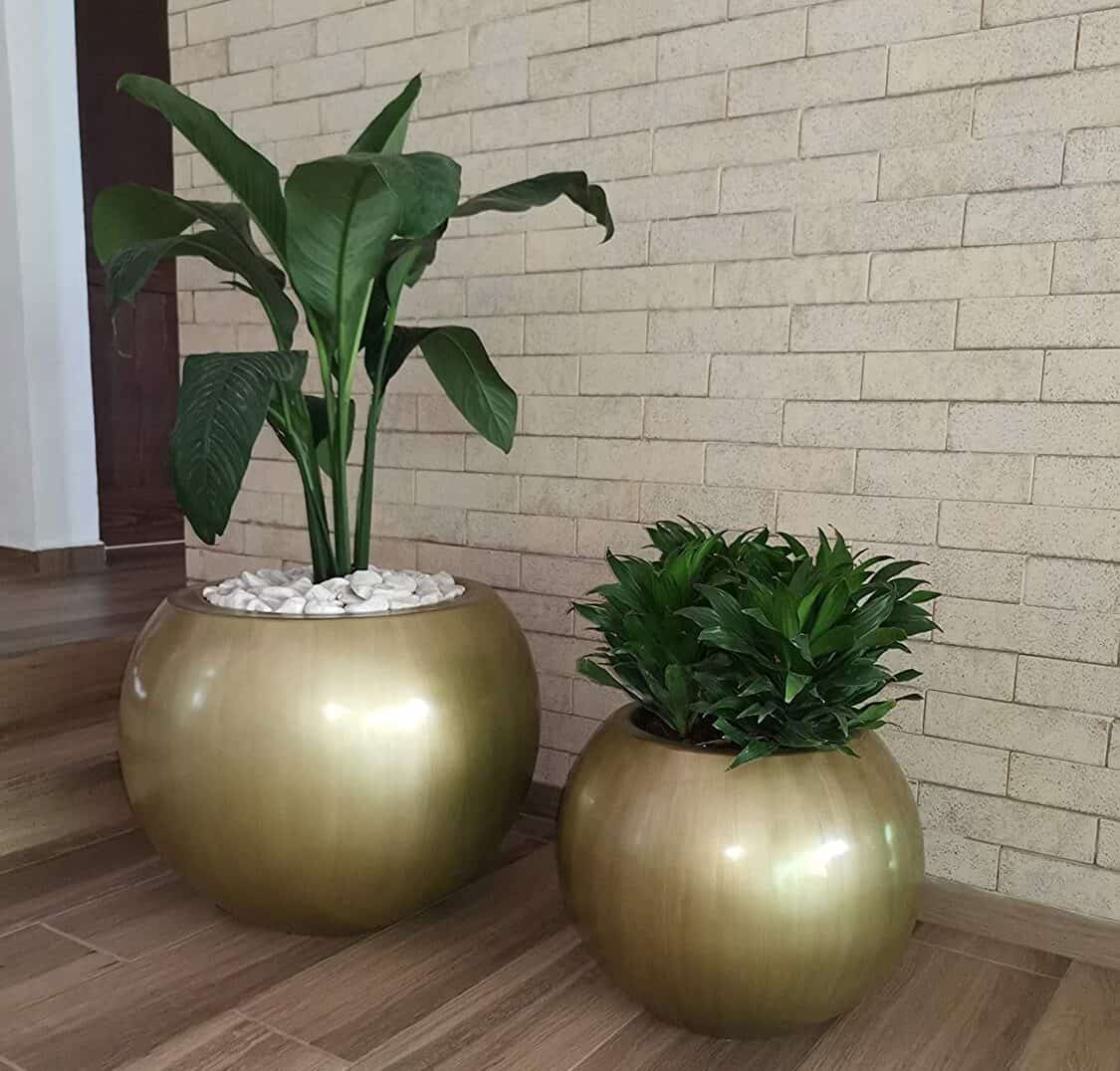 If you're looking for a fiberglass planter that will create beautiful accents for your front door or living room, you can get one that will be okay being place either indoors or outdoors. The Green Boutique Round Modern Fiberglass Planter is just the planter for you.
Forget about rectangular planters or cubes; the world is round, so should your planters. These fiberglass planters measure 14 by 17 by 17 inches (35.6 by 43.2 by 43.2 centimeters). You can put them outside your front door to warmly welcome visitors or to make the front porch look inviting.
Pros
Its not-so-ordinary shape makes it stand out even more.
Choice of gold, red, white, gray, chocolate brown, or wood.
Big capacity planters can be used for a small tree or shrub.
Best for Small Spaces: Sonoma Tall Round Cylinder Fiberglass Planter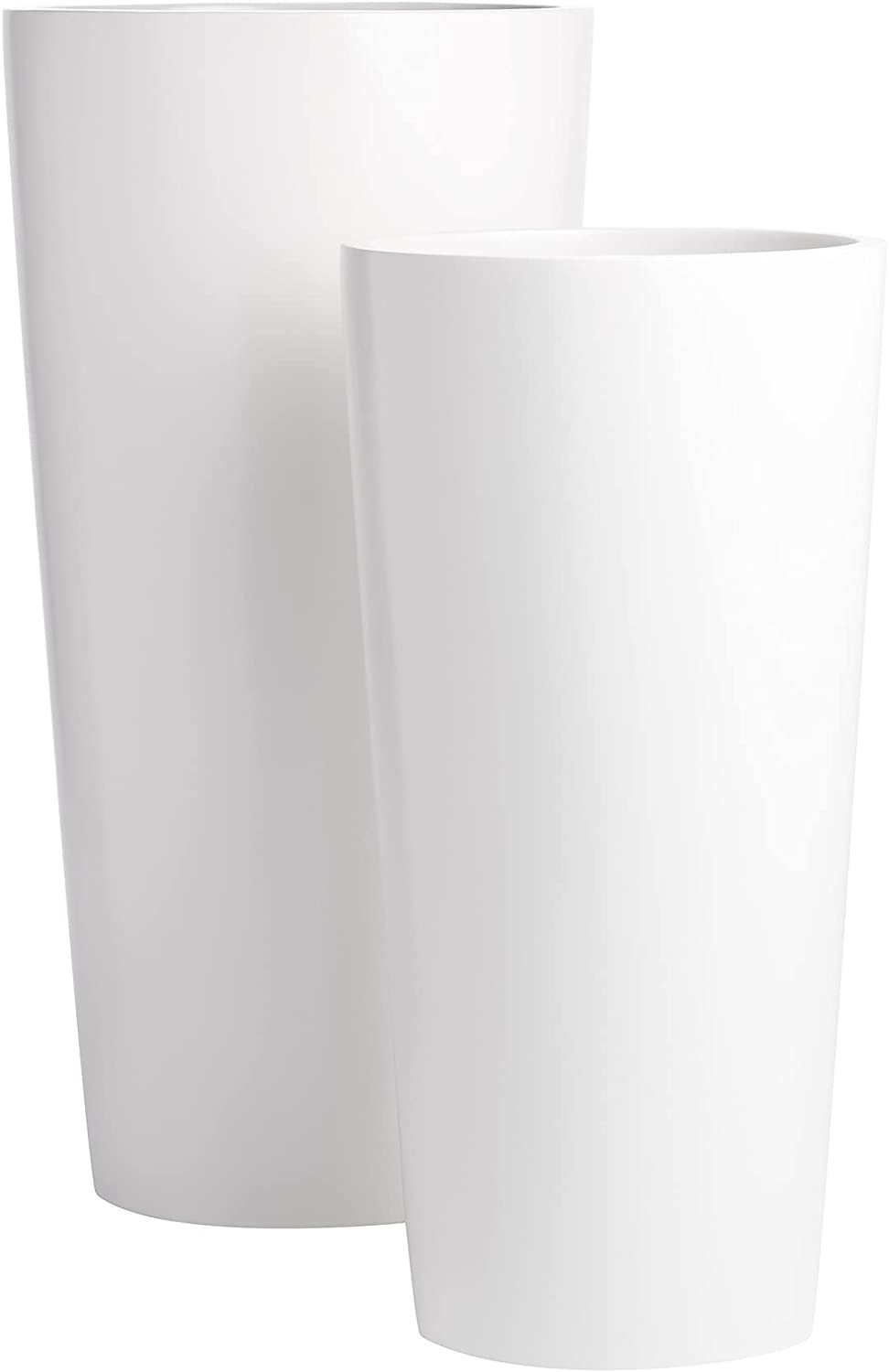 If you only have a small floor space for your plants, a tall planter will make the most impact. Not only will the plants you put in that corner become the focal part of that area, but the tall planter will also give the space some degree of contrast, and certainly a lot of interest.
The Sonoma Tall Round Cylinder Fiberglass Planter has a white finish that will stand out against anything, whether you put it against a wall or leave it freestanding. This planter is tapered, with the mouth wider than the base, and it measures 18 by 18 by 36 inches (45.7 by 45.7 by 91.4 centimeters).
Pros
Durable and lightweight.
Can be used indoors or outdoors.
More affordable than other similar planters.
Cons
Best for Embellishing Small or Indoor Spaces: Modern Minimalist Style Geometrically-Shaped White FRP Planter Pot
If you want to break the monotony of a wall or perhaps direct attention to a certain part of your porch or patio, you can put this Modern Minimalist Style Geometrically-Shaped White FRP Planter Pot. This planter measures 15.75 by 15.75 by 31.5 inches (40 by 40 by 80 centimeters) and comes with an eye-catching design that will please even the most refined design tastes.
This handmade product withstands the elements, so it's safe in every type of climate that you may have.
Pros
Weather-resistant.
Beautifully designed and unique look.
Instantly decorates a room, business, or yard.
Cons
Best Accent for Indoor Surfaces: Root and Stock Pacifica Square Curved Fiberglass Planter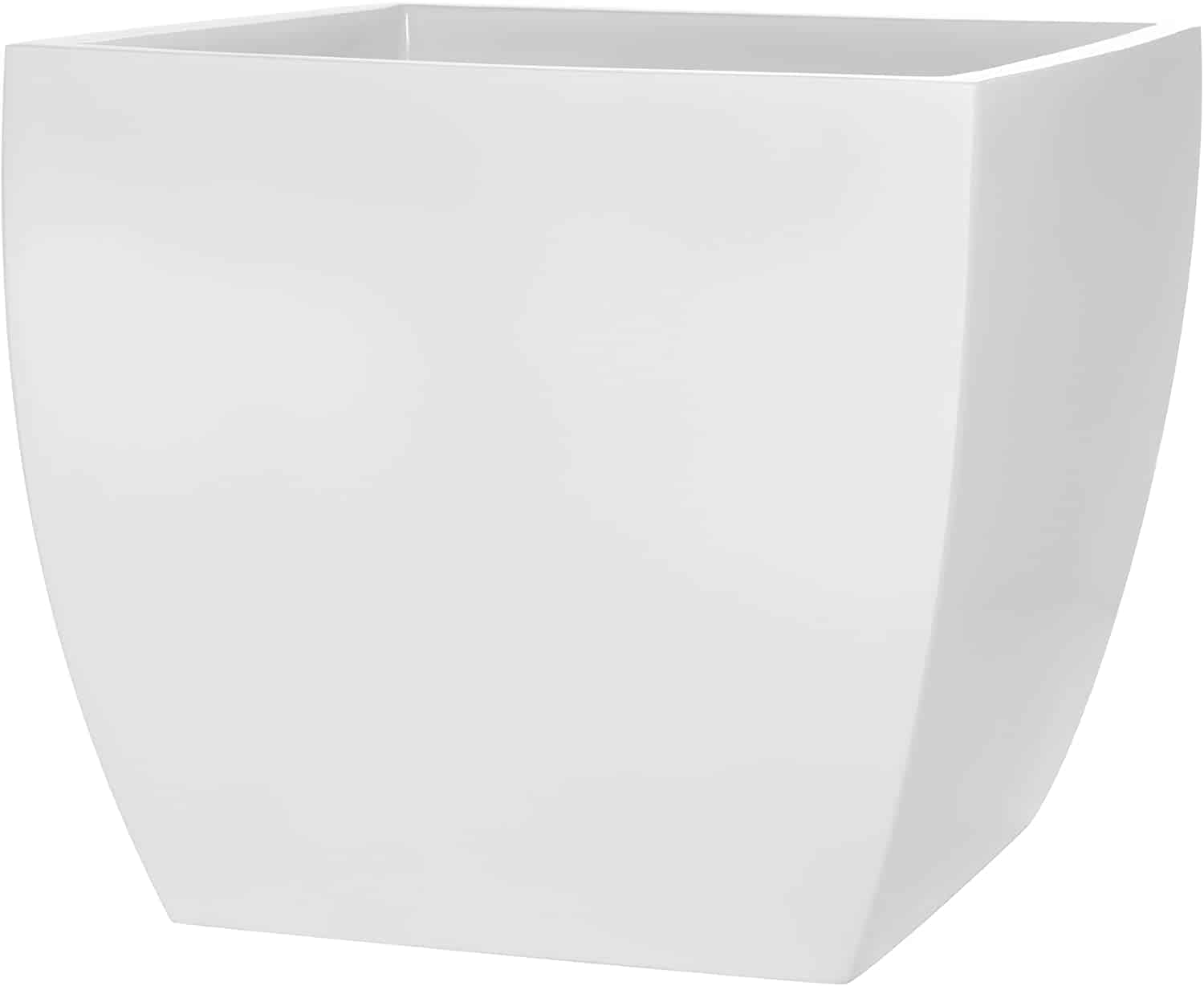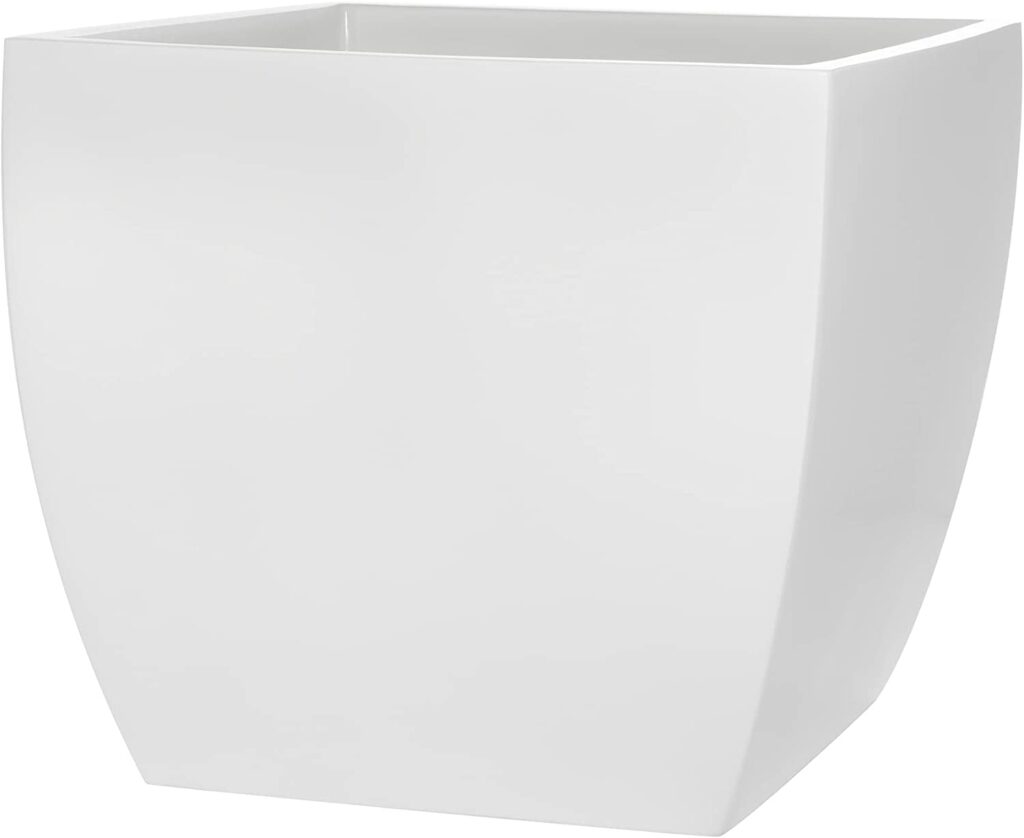 For a table, countertop, or just about any indoor surface, you can never go wrong with this Root and Stock Pacifica Square Curved Fiberglass Planter. With its clean lines and rounded curves, this is one beautiful planter that can easily capture the imagination or attention of your visitors.
At 12 by 12 by 11 inches (30.5 by 30.5 by 27.9 centimeters), it's just the right size to capture the attention of your visitors. You will love how lightweight and sturdy this planter is, plus you don't have to maintain it.
Pros
Lightweight and durable.
Maintenance-free.
Good for both indoor and outdoor use.
Cons
Doesn't come with a drainage hole.
Best for Flowers: Greeneria Cement Gray Rectangle Flower Pot and Window Planter Box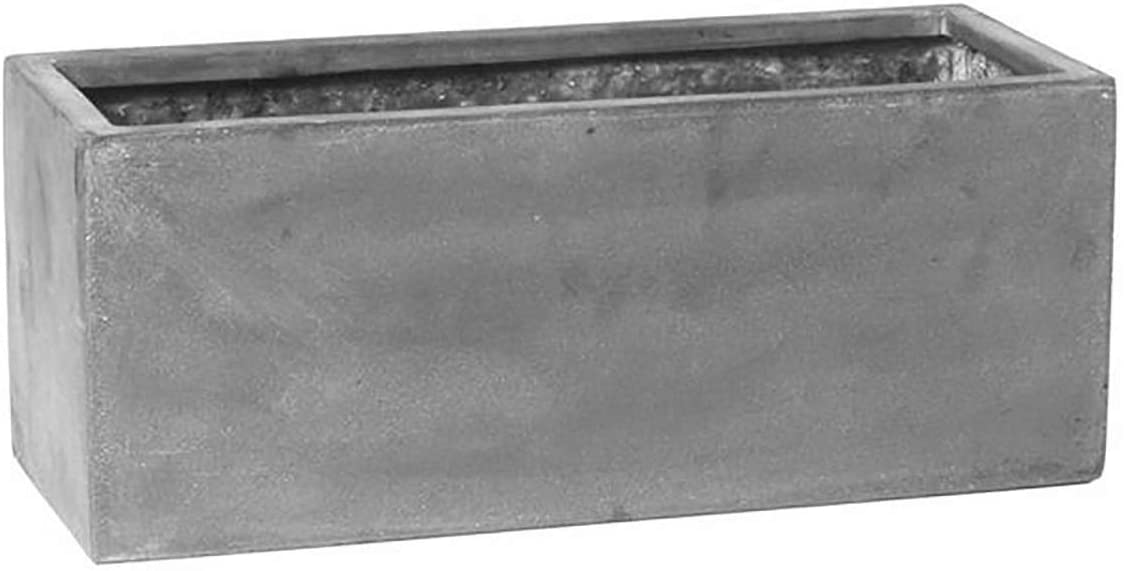 The Greeneria Cement Gray Rectangle Flower Pot and Window Planter Box stands eight inches (20.3 centimeters) tall, making it perfect to showcase flowering plants. Its gray and cement-like finish contrasts nicely with your plants' colorful flowers.
What's more, it can accommodate more than one plant, so you can have a burst of color inside your home or your porch.
Pros
Timeless yet modern look.
Affordable.
Low profiles make the flowers stand out.
Also comes in black or white.
FAQs
Question: Why should you use fiberglass planters anyway?
Answer: Fiberglass planters are made with plastic that is reinforced with glass. As such, these planters are lightweight and durable. If you want to design your garden in a certain way, these planters are also a good idea because they can mimic any material. Fiberglass planters are also:
• Weather-resistant, so it's safe from extreme heat, freezing, and other elements
• Non-porous, so moisture is not lost.
• Color will not fade over time.
But there are some disadvantages to fiberglass panters as well. For one, the non-porous material means that you should always have a drainage hole.
Some fiberglass planters can also be expensive.
Question: Can you leave fiberglass planters outside during the colder winter months?
Answer: We've all had that heartbreaking realization that some planters made of terracotta, ceramic, or other porous materials freeze and then break in the winter. These materials allow and hold water in, which then freezes and expands in the cold.
Fiberglass planters are different. Harsh sunlight, cold winters, rain, ice, or snow should not affect it negatively. With the right kind of fiberglass planter, you don't have to worry about the elements cracking or breaking it down. The material will not deteriorate even when you keep it outside.
Question: How do you maintain a fiberglass planter?
Answer: We know that fiberglass planters are hardy and can tolerate a fair amount of abuse. But you do have to care for it once in a while.
Cleaning Your Fiberglass Planter
Dirt and dust can easily accumulate on your planter over time. As such, you should make it a habit to wipe it down with mild soap dissolved in just enough warm water using a soft sponge.
Be sure to thoroughly rinse off the soapy water when you're done. If you're cleaning an indoor fiberglass planter, you can use a damp cloth instead of a soft sponge.
Take Care of the Little Cracks and Chips
Fiberglass planters can be chipped or cracked over time. It's not really that big of a problem with this kind of planter.
However, leaving these cracks open might mean water and moisture getting under the protective coating. As time passes, the protective coating chips and flakes off. Also, if your planter has some mineral buildup, be sure to remove these as soon as you spot them.
The thing is, sometimes, the repair is easy. For example, you can touch up small scratches with a coat of paint. If the scratch, dent, or chip is deeper, you can just sand the area and then fill it out with epoxy before painting over the damaged part.
Waxing Your Fiberglass Planter
Giving your planter a coat of wax will help make it more durable, with the welcome side effect of making it look glossy and better protected from the elements. Coating it with wax will also make your planter less susceptible to dust and dirt, so you clean it less frequently.
You can use products like the Star Brite Premium Marine Polish, which is formulated for fiberglass and other similar surfaces. There are also sprays that can help you protect your fiberglass planters. A product like the 303 Marine UV Protectant Spray helps prevent cracking and fading while also repelling dust, dirt, and stains without the greasy feeling.
Other Tips:

• Handle your fiberglass planters with care. If you need to move it around, you should first empty it and move it safely rather than push, tug, or twist the planter.
• Avoid using harsh chemicals and abrasives to clean persistent dirt as these can strip the planter of its protective coating. A tough abrasive like steel wool can also leave deep scratches on your planter.
• Keep them off the ground. Fiberglass planters should have feet or a platform to keep them off the ground. There is a possibility that the planter will sink if you put it on grass or dirt. This will result in the planter having problems with drainage.
Best Indoor Fiberglass Planters Guide: Final Thoughts
It's easy to fall in love with fiberglass planters. They are lightweight, so they're easy to move around. They are also durable, so they last a long time. You can trust the best fiberglass planters as good homes to your plants.
Not only that, these planters are beautiful, and because they are weather-proof, they stay that way for a very long time. Fiberglass can also be used to mimic a lot of materials, so there are a lot of design options to choose from.
As you can see, fiberglass planters come in a variety of sizes and shapes. Taller and bigger planters like the Austin Avenue Accents Tall Rectangular Planter Box or the Sonoma Tall Round Cylinder Fiberglass Planter are functional as privacy hedges. They also give your plants more height to make them the highlight of any space you put them in.
Wider planters such as the Pottery Pots E1105-S1-03 Fiberstone Planter or the Root and Stock Pacifica Square Curved Fiberglass Planter serve their purpose as understated yet elegant additions to windowsills, patios, or porches. These planters can also highlight your flowering plants.
There are also planters such as the Green Boutique Round Modern Fiberglass Planter, Modern Minimalist Style Geometrically-Shaped White FRP Planter Pot, or the Root and Stock Pacifica Square Curved Fiberglass Planter that makes your space lovelier.